Ushuaia Ice Trip 2010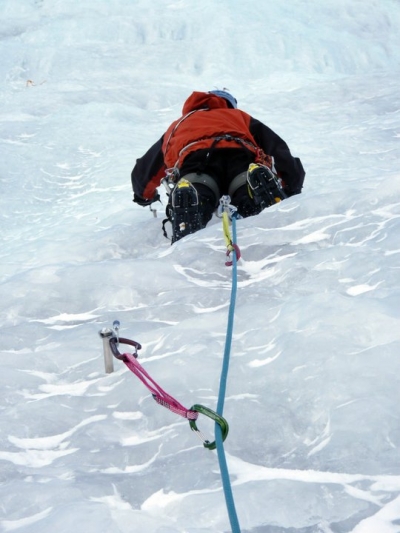 Los chicos (Adrian y Fido), disfrutaron de una excelente semana de escaladas en Ushuaia. Entre las ascensiones lograron escalar la Cascada grande del Cerro Alvear, luego la ruta del Glaciar Sudeste del mismo Cerro, llegando a su cumbre y también coronaron la cumbre del Cerro Bonete.

Más fotos en:
http://www.facebook.com/album.php?aid=22932&id=100000553928686&l=df6033c79f
Fatal Error
Error: Allowed memory size of 134217728 bytes exhausted (tried to allocate 14444 bytes)
File: /var/www/html/lib/Cake/Utility/Debugger.php
Line: 555
Notice: If you want to customize this error message, create app/View/Errors/fatal_error.ctp

Leonardo De Pascuale
Cliente
"Muuuuucha buena onda... gente muy predispuesta pa todo... asesoran con conocimiento... y de eso hay poco..."

Alejo Campos
Cliente
"Excelente atención. Tuve un problema con un casco y me lo solucionaron de rápido. Son muy responsables hasta en el servicio postventa."

Teresa Santillan
Cliente
"Muy buena atención. Hermosas cosas. Buen precio en relación a la calidad. Lo que más valoro es la explicación ante cada elemento y consejos. Para mi que recién me inicio en esta actividad. Diez puntos"

Maxi D'aspi
Cliente
"En la era de las compras digitales, Naka marca la diferencia con una excelente atención personalizada asesoramiento de primera y un local que vale la pena conocer !!"

Eze Domeniconi
Cliente
"Excelente como siempre, los productos, la atencion, los envios, etc; en todas las compras que he hecho. Y mucho mejor ahora que traen productos de LaSportiva!!!!. A estrenar las nuevas pedulas que me llegaron hoy !. Abrazo a todo el equipo."
(default) 4 queries took 142 ms

| Nr | Query | Error | Affected | Num. rows | Took (ms) |
| --- | --- | --- | --- | --- | --- |
| 1 | SELECT `Session`.`id`, `Session`.`data`, `Session`.`expires` FROM `244876_naka`.`cake_sessions` AS `Session` WHERE `Session`.`id` = 'aqmt5u9l087hu5v7ek1tf8huv7' LIMIT 1 | | 0 | 0 | 0 |
| 2 | SELECT `BPost`.`id`, `BPost`.`habilitado`, `BPost`.`publicado`, `BPost`.`categoria_id`, `BPost`.`store_categoria_id`, `BPost`.`marca_id`, `BPost`.`pos_vid`, `BPost`.`comentario_count`, `BPost`.`titulo`, `BPost`.`slug`, `BPost`.`meta_title`, `BPost`.`meta_keys`, `BPost`.`meta_description`, `BPost`.`video_url`, `BPost`.`imagen`, `BPost`.`mostrar_imagen`, `BPost`.`body`, `BPost`.`cross_selling`, `BPost`.`cross_title`, `BPost`.`articulos_rel_ids`, `Usuario`.`id`, `Usuario`.`login`, `Usuario`.`avatar`, `BCategoria`.`titulo`, `BCategoria`.`slug`, `BCategoria`.`id` FROM `244876_naka`.`blog_posts` AS `BPost` LEFT JOIN `244876_naka`.`blog_categorias` AS `BCategoria` ON (`BPost`.`categoria_id` = `BCategoria`.`id`) LEFT JOIN `244876_naka`.`usuarios` AS `Usuario` ON (`BPost`.`usuario_id` = `Usuario`.`id`) WHERE `BPost`.`id` = 14 LIMIT 1 | | 1 | 1 | 5 |
| 3 | SELECT `BComentario`.`id`, `BComentario`.`post_id`, `BComentario`.`ip`, `BComentario`.`created`, `BComentario`.`readed`, `BComentario`.`user_readed`, `BComentario`.`deleted`, `BComentario`.`nombre`, `BComentario`.`mail`, `BComentario`.`comentario`, `BComentario`.`respuesta`, `BComentario`.`ubicacion`, `BComentario`.`mobile`, `BComentario`.`magic_data`, `BComentario`.`importante`, `BComentario`.`usuario_id`, `BComentario`.`telefono`, `BComentario`.`celular`, `BComentario`.`cod_area_tel`, `BComentario`.`cod_area_cel`, `BComentario`.`public`, `BComentario`.`device_id`, `BComentario`.`os_id`, `BComentario`.`browser_id`, `BComentario`.`platform_data` FROM `244876_naka`.`blog_comentarios` AS `BComentario` WHERE `BComentario`.`deleted` = 0 AND `BComentario`.`readed` = 1 AND `BComentario`.`public` = 1 AND `BComentario`.`post_id` = (14) ORDER BY `BComentario`.`created` DESC | | 0 | 0 | 0 |
| 4 | SELECT `Articulo`.`id`, `Articulo`.`usuario_id`, `Articulo`.`codigo`, `Articulo`.`categoria_id`, `Articulo`.`subcategoria_id`, `Articulo`.`categoria_ter_id`, `Articulo`.`categoria_cuar_id`, `Articulo`.`marca_id`, `Articulo`.`stock_id`, `Articulo`.`created`, `Articulo`.`modified`, `Articulo`.`published`, `Articulo`.`precio`, `Articulo`.`rango`, `Articulo`.`precio_min`, `Articulo`.`precio_max`, `Articulo`.`precio_real`, `Articulo`.`nombre`, `Articulo`.`slug`, `Articulo`.`meta_title`, `Articulo`.`meta_keys`, `Articulo`.`meta_description`, `Articulo`.`habilitado`, `Articulo`.`destacado`, `Articulo`.`destacado_pos`, `Articulo`.`oferta`, `Articulo`.`hot_off`, `Articulo`.`delay_off`, `Articulo`.`oferta_2u`, `Articulo`.`borrado`, `Articulo`.`descripcion`, `Articulo`.`imagen1`, `Articulo`.`imagen2`, `Articulo`.`imagen3`, `Articulo`.`thumb1`, `Articulo`.`thumb2`, `Articulo`.`thumb3`, `Articulo`.`small_thumb1`, `Articulo`.`small_thumb2`, `Articulo`.`small_thumb3`, `Articulo`.`video_url`, `Articulo`.`curva_id`, `Articulo`.`curva2_id`, `Articulo`.`nuevo`, `Articulo`.`valoraciones`, `Articulo`.`puntaje`, `Articulo`.`cat_relacionada_id`, `Articulo`.`relacionados_ids`, `Articulo`.`pos_vid`, `Articulo`.`cantidad`, `Articulo`.`stock_critico`, `Articulo`.`seva`, `Articulo`.`envio_gratis`, `Articulo`.`precio_mayorista`, `Articulo`.`peso`, `Articulo`.`alto`, `Articulo`.`ancho`, `Articulo`.`largo`, `Articulo`.`volumen`, `Articulo`.`coef_mayorista`, `Articulo`.`stock_id_dist`, `Articulo`.`stock_minimo`, `Articulo`.`cantidad_dist`, `Articulo`.`pedido_minimo_dist`, `Articulo`.`imagen4`, `Articulo`.`thumb4`, `Articulo`.`small_thumb4`, `Articulo`.`imagen5`, `Articulo`.`thumb5`, `Articulo`.`small_thumb5`, `Articulo`.`promo`, `Articulo`.`filtros`, `Articulo`.`paquete_id`, `Articulo`.`cross_selling`, `Articulo`.`categoria_rel_id`, `Articulo`.`articulos_rel_ids`, `Articulo`.`cross_selling_2`, `Articulo`.`categoria_rel_id_2`, `Articulo`.`articulos_rel_ids_2`, `Articulo`.`recomendaciones`, `Articulo`.`favoritos`, `Articulo`.`stats_last_update`, `Articulo`.`opiniones`, `Articulo`.`orders`, `Articulo`.`sold`, `Articulo`.`sold_by_orders`, `Articulo`.`billing`, `Articulo`.`home`, `Articulo`.`img1_list`, `Articulo`.`img2_list`, `Articulo`.`imagen1_pos`, `Articulo`.`imagen2_pos`, `Articulo`.`imagen3_pos`, `Articulo`.`imagen4_pos`, `Articulo`.`imagen5_pos`, `Articulo`.`associated_curva_id`, `Articulo`.`imagen1_curva_item_id`, `Articulo`.`imagen2_curva_item_id`, `Articulo`.`imagen3_curva_item_id`, `Articulo`.`imagen4_curva_item_id`, `Articulo`.`imagen5_curva_item_id`, `Articulo`.`colores`, `Articulo`.`oferta_mayorista`, `Articulo`.`stats_crosselling`, `Articulo`.`stats_clients`, `Articulo`.`error`, `Articulo`.`seo_error`, `Articulo`.`error_msg`, `Articulo`.`imagen6_pos`, `Articulo`.`imagen6_curva_item_id`, `Articulo`.`small_thumb6`, `Articulo`.`thumb6`, `Articulo`.`imagen6`, `Articulo`.`imagen7_pos`, `Articulo`.`imagen7_curva_item_id`, `Articulo`.`small_thumb7`, `Articulo`.`thumb7`, `Articulo`.`imagen7`, `Articulo`.`imagen8_pos`, `Articulo`.`imagen8_curva_item_id`, `Articulo`.`small_thumb8`, `Articulo`.`thumb8`, `Articulo`.`imagen8`, `Articulo`.`imagen9_pos`, `Articulo`.`imagen9_curva_item_id`, `Articulo`.`small_thumb9`, `Articulo`.`thumb9`, `Articulo`.`imagen9`, `Articulo`.`imagen10_pos`, `Articulo`.`imagen10_curva_item_id`, `Articulo`.`small_thumb10`, `Articulo`.`thumb10`, `Articulo`.`imagen10`, `Articulo`.`imagen11_pos`, `Articulo`.`imagen11_curva_item_id`, `Articulo`.`small_thumb11`, `Articulo`.`thumb11`, `Articulo`.`imagen11`, `Articulo`.`imagen12_pos`, `Articulo`.`imagen12_curva_item_id`, `Articulo`.`small_thumb12`, `Articulo`.`thumb12`, `Articulo`.`imagen12`, `Articulo`.`imagen13_pos`, `Articulo`.`imagen13_curva_item_id`, `Articulo`.`small_thumb13`, `Articulo`.`thumb13`, `Articulo`.`imagen13`, `Articulo`.`imagen14_pos`, `Articulo`.`imagen14_curva_item_id`, `Articulo`.`small_thumb14`, `Articulo`.`thumb14`, `Articulo`.`imagen14`, `Articulo`.`imagen15_pos`, `Articulo`.`imagen15_curva_item_id`, `Articulo`.`small_thumb15`, `Articulo`.`thumb15`, `Articulo`.`imagen15`, `Articulo`.`sku`, `Articulo`.`mercadolibre`, `Articulo`.`body_txt`, `Articulo`.`ml_id`, `Articulo`.`gs_id`, `Articulo`.`ml_precio`, `Articulo`.`ml_eg`, `Articulo`.`facebook`, `Articulo`.`google`, `Articulo`.`ml_categ_id`, `Articulo`.`ml_published_type`, `Articulo`.`ml_updated`, `Articulo`.`ml_status`, `Articulo`.`ml_price_config`, `Articulo`.`ml_off`, `Articulo`.`ml_warnings`, `Articulo`.`garantia`, `Articulo`.`modelo`, `Articulo`.`ml_title`, `Articulo`.`ml_sync`, `Articulo`.`ml_variants_mode`, `Articulo`.`condition`, `Articulo`.`ml_picture1_id`, `Articulo`.`ml_picture2_id`, `Articulo`.`ml_picture3_id`, `Articulo`.`ml_picture4_id`, `Articulo`.`ml_picture5_id`, `Articulo`.`ml_picture6_id`, `Articulo`.`ml_picture7_id`, `Articulo`.`ml_picture8_id`, `Articulo`.`ml_picture9_id`, `Articulo`.`ml_picture10_id`, `Articulo`.`ml_picture11_id`, `Articulo`.`ml_picture12_id`, `Articulo`.`ml_picture13_id`, `Articulo`.`ml_picture14_id`, `Articulo`.`ml_picture15_id` FROM `244876_naka`.`articulos` AS `Articulo` WHERE `Articulo`.`habilitado` = 1 AND `Articulo`.`borrado` = 0 | | 2642 | 2642 | 137 |